Trio Reijseger / Fraanje / Sylla
Musique
tarif plein : 15 €
tarif réduit : 9 €
tarif solidaire : 6 €
Petit théâtre
Distribution
Ernst Reijseger, violoncelle
Harmen Fraanje, piano
Mola Sylla, voix, m'bira, xalam 

Biographie
Ernst Reijseger - Mola Sylla - Harmen Fraanje (anglais)
Ernst Reijseger Ernst Reijseger started playing cello at the age of eight. He studied classical music with Jan Olivier, Anner Bijlsma and René van Ast. In the mid 70s he left the classical music scene and followed his interest for improvised music and jazz. His tutor Anner Bijlsma encouraged him to follow his own path. In the following years Reijseger played and recorded with Derek Bailey, Alan "Gunga" Purves, Franky Douglas, Trilok Gurtu and Yo Yo Ma (to mention a few). He also was a member of the Theo Loevendie Consort, the Guus Janssen Septet, the Arcado String Trio, Trio Clusone with Michael Moore and Han Bennink, Misha Mengelberg's Instant Composers Pool, the Gerry Hemingway and the Trio with trumpetist Eric Vloeimans and guitarist Anton Goudsmit. In 1985 he received the Boy Edgar Prize and in 1995 the Bird Northsea Jazz Festival. Throughout the years Ernst Reijseger has composed and developed outstanding solo performances. Both of his solo albums "Colla Parte" (1997) and "Tell Me Everything" (2008) were highly acclaimed by the international press. All Music Guide (Four Stars): "... the music is punctuated by rapid flourishes that make use of various capabilities of the cello. There are passages involving hand percussion on the body of the cello, for example, and modern jazz drumming and the freer varieties of jazz in general seem to be important components of the music. […] Tonally the music makes use of extended harmonies; it generally has clear tonal centers. The jazz influence is by no means thoroughgoing: there are echoes of Bach's music for unaccompanied cello, of Romantic virtuoso music, and of minimalism. Reijseger never does the same thing twice, and in fact the pieces resemble each other very little, which is quite an accomplishment for a disc of solo cello music. The sound, recorded in a medieval Tuscan commenda, or commandry house, is magical." In 2010 Ernst Reijseger received the renowned Edison Award, one of the most prestigious music awards of The Netherlands. Ernst Reijseger collaborates with the Italian pianist Franco d'Andrea, the French clarinettist and saxophonist Louis Sclavis, the Norwegian accordion player Stian Carstensen, the Russian pianist Simon Nabatov, the Amsterdam String Trio, the Senegalese singer Mola Sylla and the African percussionist Serigne Gueye, the Tenores e Concordu de Orosei from Sardinia, the Scottish multi-instrumentalist Alan "Gunga" Purves and the group Groove Lélé from the island La Réunion. Ernst Reijseger composes and records soundtracks for various films. A special artistic relationship he built up over the years with German film director Werner Herzog. Reijseger has written music for several of his internationally acclaimed films such as "Cave of forgotten Dreams", "Rescue Dawn", "My Son, My Son, What Have ye Done" and many others. In 2014 Ernst Reijseger celebrated his 60th birthday. The unique album release "Feature" was dedicated to this special event. A few months earlier Reijseger had put out his third solo CD "Crystal Palace", a work that was created in collaboration with the American painter Jerry Zeniuk. Mola Sylla Singer, percussion player and composer Mola Sylla was raised in the capital of Senegal in the tradition of the 'griots', who play a very important role in the culture of West Africa. It's this huge and rich heritage from which later he will draw his source of inspiration as a singer and musician. He arrived in Europe in the 1980s with his first band called Senemali. In 1987 he permanently settled in Amsterdam where he still lives. In the Netherlands he met cellist Ernst Reijseger. Since the very beginning Mola Sylla and Ernst Reijseger started a fruitful artistic collaboration. Mola Sylla sings mostly in Wolof, the language of Senegal, that has survived alongside French and which is spoken by 90% of the Senegalese people. In his lyrics he reflects the circumstances of colonialism and talks about the history of his people. Mola Sylla plays many traditional African instruments, such as the m'bira, the kongoma and the xalam, and creates his own unique sound world. His singing, rhythms and melodies are inspired by the tradition of his African culture. Mola Sylla can be heard on the Winter & Winter albums "Janna", "Requiem for a dying Planet", "Zembrocal Musical", "My Son, My Son, What Have ye Done", "Eroberung des Nutzlosen", "Down Deep" and "Feature". Harmen Fraanje Harmen Fraanje started playing the piano when he was six years old. He studied jazz piano and improvised music at the conservatories of Tilburg and Utrecht. Already during his studies he started to play with some of the leading musicians in Holland, like Eric Vloeimans, Anton Goudsmit, Hans van Oosterhout and Hein van de Geijn. Today, Harmen teaches himself at the Conservatory of Amsterdam. In 2007 Harmen was chosen as young VIP by the Dutch jazzclubs, and was offered an extensive tour with the band Aneris, consisting of Michael Moore, Brice Soniano and Toma Gouband. In 2008 Harmen he had a "Carte Blanche" by the Mundial Festival Tilburg and invited Ernst Reijseger and Mola Sylla. That was the beginning of the trio Reijseger, Fraanje, Sylla. The last few years have seen him being more and more involved in new formations performing with Malik Mezzadri, Michael Moore, Brice Soniano, Toma Gouband, Nelson Veras, Samuel Rohrer and Mats Eilertsen. Harmen Fraanje can be heard on several Winter & Winter recordings: "My Son, My Son, What Have ye Done", "Cave of forgotten Dreams", "Down Deep", "Eroberung des Nutzlosen" and "Feature"
Bar ouvert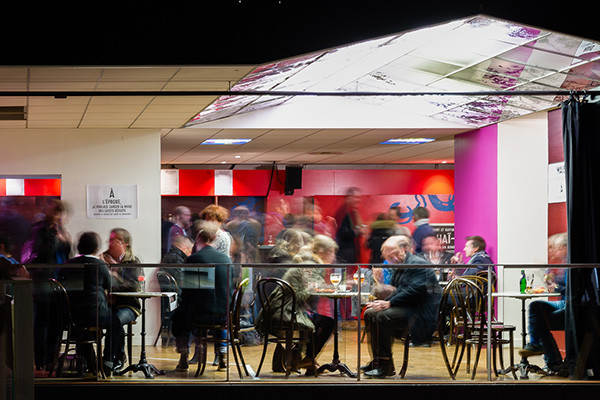 Le bar est ouvert chaque soir de représentation à partir de 18h30, pendant les entractes et après les représentations : restauration légère et boissons vous y sont proposées.
Ernst Reijseger compte parmi les violoncellistes les plus importants et originaux du monde de la musique actuelle. À la croisée du jazz, de l'improvisation et de la musique contemporaine, inclassable, tour à tour guitare blues, africaine, jazz, ou percussion, le violoncelle connaît plusieurs vies sous les doigts et l'archet du musicien. Depuis quelques années, il est devenu le compositeur attitré du réalisateur Werner Herzog. Avec le chanteur et percussionniste sénégalais Mola Sylla et le pianiste jazz Harmen Fraanje, ils forment un trio d'exception. Leur répertoire inclut des compositions originales d'Ernst et Harmen et des chansons africaines que Mola Sylla chante en Woloff, sa langue maternelle. À son chant d'inspiration mystique s'ajoutent les notes du m'bira et du xalam que Mola joue dans la pure tradition africaine. Imaginez ce chant et ces sons qui arrivent de loin et se rencontrent avec le génie d'Ernst Reijseger, le guru de l'improvisation, et le lyrisme des mélodies du piano.